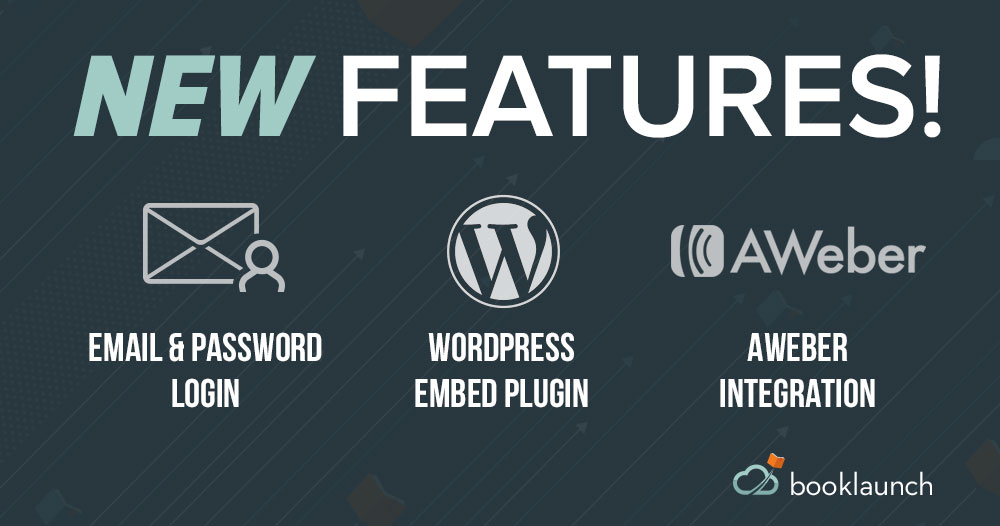 The past few weeks have been busy ones at Booklaunch! Along with co-hosting a webinar with Joel Friedlander of TheBookDesigner.com (which you can watch here), we've also been building some great features. We're really excited to release 3 major improvements that will help you get the most out of your Booklaunch page.
Email Sign Up and Login
We heard you loud and clear: we needed an option to sign up and log in using only email and password (rather than Facebook or Twitter). Well, now you can! Starting today, you can sign up and log in using email and password.
If you're an existing user already connected with a Facebook or Twitter account, you can keep logging in the same way, and add your email and password to your account. For future logins, you have the choice of logging in either way.
---
Wordpress Plugin
Premium Feature: With our new Wordpress plugin, you can seamlessly integrate your Booklaunch page with your existing Wordpress website. This allows you to keep your existing domain and simply add your Booklaunch page as a new page on your existing Wordpress site.
This means that your Booklaunch page can now load on the web at:
• an existing site URL (ex. mywebsite.com/my-book)
• the standard Booklaunch url (ex. booklaunch.io/username/book-url)
• a custom domain or subdomain (ex. mybook.com or mybook.mywebsite.com)
This can allow you to keep traffic flowing to your existing website URL. For those looking to maximize their book's presence online you can even setup all three.
Learn more and set it up today.
---
Aweber Integration
Now you can connect your Aweber account and send your Booklaunch page email signups directly to your Aweber email lists. Have multiple book pages and multiple lists? You can specify which list to send the signups to for each of your pages.
Learn more and integrate it today.
---
Have feedback for us? Need a feature we're still missing?
Email me at jake@booklaunch.io and I'd love to chat.